Take one step at a time: The SPA on mobile contactless services deployment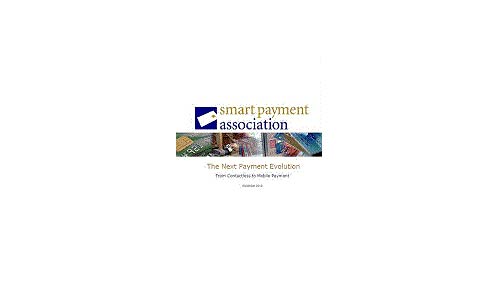 Smart Payment Association (SPA) has published a white paper "The Next Payment Evolution
From Contactless to Mobile Payments" providing a clear picture of the different technologies available and a recommendation for payment card issuers willing to deploy mobile contactless services.
Cartes'10, – Paris, 7th December 2010
The card payment landscape is evolving. In most countries, credit and debit card programs are now equipped with smart card technology, causing a shift in the entire electronic payment infrastructure. Although some cardholders still have magnetic stripe cards in their wallets, the next evolutionary step has already arrived: contactless payment. Contactless payment smart cards are ideal for replacing cash in low-value payments, as well as other services such as transport ticketing, loyalty point collection, vouchers, air-miles and many others. Consequently, contactless smart cards have a very good chance of becoming the primary method of payment for all day-to-day purchases.
While deployment of contactless technology has already begun, the next step is mobile Near Field Communication (NFC) payment. It allows issuers to load their credit or debit products onto mobile phones equipped with NFC technology. In other words, the payment product goes 'virtual'. However, new form factors, such as contactless stickers, are also being considered by card issuers as an intermediary step to allow 'mobile' contactless payment before the full Mobile NFC environment is created.
Building on SPA members' know-how and expertise, this White Paper aims to provide a clear picture of the different technologies available today and to provide recommendations to payment product issuers for offering mobile contactless services to their customers.
Andreas Johne, Head of the SPA 'Advanced Payments' Working Group is presenting the white paper on Wednesday 8th December at 17:00 on the Conference Track C07 'Contactless' at Cartes'10.
To download the white paper, click here -ends-
Notes to Editors: About Smart Payment Association (SPA)
The Smart Payment Association (SPA) is dedicated to promoting and facilitating the use of smart cards for payment. A non-profit organization founded in 2004, the SPA now has six members including Austria Card, Incard and Morpho, in addition to the three founding members: Giesecke & Devrient, Gemalto and Oberthur Technologies.
With more than 675 million payment smart cards delivered by its members in 2009, the SPA represents around 86% of the smart payment cards market. The association's role is not limited to education and promotion. The SPA shows its technical and commercial teeth through its comprehensive programme of industry working-groups that seek to accelerate the transition from traditional magnetic stripe cards to chip-based cards. Furthermore, the SPA is working to advance interoperability and security between all system components, and looking into any form of payment that is both individual and secure.
For more information on the SPA, visit our website: www.smartpaymentassociation.com or contact us by email: info@smartpaymentassociation.com. Smart Payment Association is a Supporting Organization of Cartes'10.
CARTES & IDentification is the world leading event for digital security and smart technologies which will bring the 7/8/9 December 2010 at the Paris Nord Villepinte exhibition centre nearly 500 exhibitors, 20 000 visitors and 1300 congress delegates.www.cartes.com Christoph Siegelin, President of SPA, is a member of the Jury for the Sesames Awards 2010.
Conferences: C05: BACK TO BASICS
Lorenzo Gaston, Head of the SPA 'Specifications' Working Group will be presenting on Tuesday 7th December at 9:30 on the standardization activities initiatives of the EPC-CSG which are shaping the future of SEPA e-payments and explain the interactions with other standardization organizations.
C07: CONTACTLESS PAYMENTS
Andreas Johne, Head of the SPA 'Advanced Payments' Working Group will be presenting the white paper "The Next Payment Evolution" on Wednesday 8th December at 17:00