Position Paper 'Fallback to Chip Payment Application' published by Smart Payment Association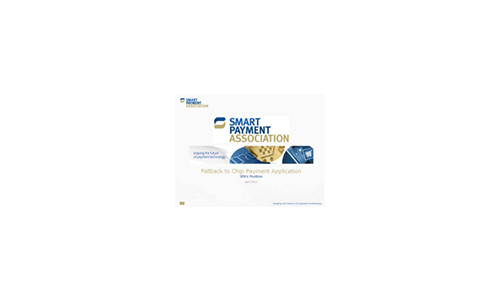 Munich, 9th July 2013 - The Smart Payment Association (SPA) today publishes a Position Paper 'Fallback to Chip Payment Application'
Today's payments industry is characterized by change. New form factors are appearing, demanding a new ecosystem of advanced readers. Contact, contactless and mobile device payments are likely to feature an increasing array of branded payment scheme applications. Terminals, cards and devices are going to have to support legacy applications as well.
We'll see different applications and services being executed in different ways, with different levels of functionality, on differing platforms. As the industry suits up for a migration program to this new generation of smart payments cards (and its supported ecosystem), we have all the ingredients for interoperability incidents. And they'll need to be fixed fast. .
The SPA believes that the need to architect some kind of fall back solution is required.
This document détails the SPA's Fall Back to Chip proposal.
Notes to Editors:

About Smart Payment Association (SPA)
The Smart Payment Association addresses the challenges of the evolving payment ecosystem, offering leadership and expert guidance to help its members and their financial institution customers realize the opportunities of smart, secure and personalised payment systems & services both now and for the future.
For more information on the SPA, visit our website: www.smartpaymentassociation.com or contact us by email:
This email address is being protected from spambots. You need JavaScript enabled to view it.
.
Press Contact:
Stéphanie de Labriolle
+33 6 85 91 19 94
This email address is being protected from spambots. You need JavaScript enabled to view it.