Position Paper on Security for Mobile Payments published by Smart Payment Association (SPA)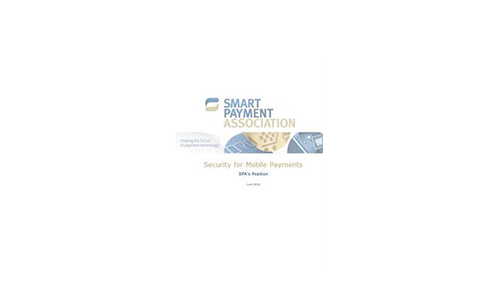 Munich, 15th June 2012 - The Smart Payment Association (SPA) today publishes a Position Paper 'Security for Mobile Payments'
Offering guidance on the most pressing issues in the payments world, this report from the SPA offers a detailed analysis of the mobile payments market; based on current live and trial deployments.
Focusing on security and fraud protection, it outlines the position of the SPA in this most crucial of areas, and delivers a series of ten recommendations aimed at helping member organizations, and the wider mobile payments community, understand and address security concerns to deliver compliant services and solutions.
Inevitably in such as dynamic market, the analysis and conclusions contained in this document need to be continually reviewed in the light of expected technical, regulatory and operational innovations.
The SPA would welcome any feedback from the mobile payments community that addresses the content of this document.
To download the full position paper, please click here. Note that you need to be a registered user and to log in to download the paper. It's free to register.
DOC = 12-06-15-SPAPosition-MobilePaymentsSecurityV1-0- Final
-ends-
Notes to Editors:

About Smart Payment Association (SPA)
The Smart Payment Association addresses the challenges of the evolving payment ecosystem, offering leadership and expert guidance to help its members and their financial institution customers realize the opportunities of smart, secure and personalised payment systems & services both now and for the future.
For more information on the SPA, visit our website: www.smartpaymentassociation.com or contact us by email:
This email address is being protected from spambots. You need JavaScript enabled to view it.
.
Press Contact:
Stéphanie de Labriolle
+33 6 85 91 19 94
This email address is being protected from spambots. You need JavaScript enabled to view it.