Special Report into Business Continuity Management published by Smart Payment Association (SPA)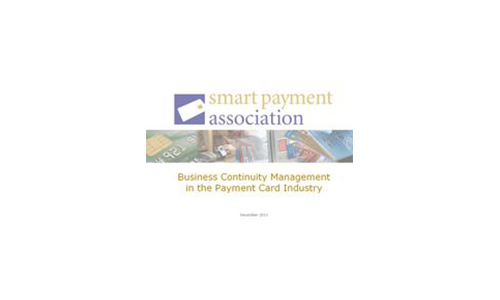 Munich, 2nd December 2011: The Smart Payment Association (SPA) today publishes its 'Business Continuity in the Payment Card Industry' whitepaper in response to industry demand for detailed guidance and practical support.
There's little doubt that business continuity management (BCM) must be front and centre for today's payment card issuers : the potential cost implications of an unmanaged catastrophic incident within the supply chain for payment card issuers can run into millions of Euros and cause wide-ranging reputational issues that may impact customer growth.
With a new comprehensive study analysing and modelling the effective management of BCM, marking the completion of a wide-ranging study into current incident management and risk assessment practices across the smart payments sector, the white paper delivers a set of guiding principles and best practices for developing and managing business continuity programmes. The document addresses these issues, uncovering the complex regulatory frameworks and business value of continuity management. In response the paper presents an approach to a cost/benefit analysis on which card issuers and their entire supply chains can make measured business continuity investment decisions that offer the necessary protection for their organisations.
According to Nils Gerhardt, Chairman of the Smart Payment Association's BCP Workgroup "The increasing complexity of cross-border regulatory compliance and the global nature of the supply chain constitute risks that have to be managed professionally".
"While there is undoubtedly a strong awareness, a cross-industry understanding on how these risks are assessed and managed appropriately, needs to be strengthened. It is critical the industry takes pro-active control of this issue and we believe this paper offers a sound platform to start from."
To download the full white paper and the presentation, please click here.
-ends-
Notes to Editors:

About Smart Payment Association (SPA)
The Smart Payment Association addresses the challenges of the evolving payment ecosystem, offering leadership and expert guidance to help its members and their financial institution customers realize the opportunities of smart, secure and personalised payment systems & services both now and for the future.
For more information on the SPA, visit our website: www.smartpaymentassociation.com or contact us by email:
This email address is being protected from spambots. You need JavaScript enabled to view it.
.
Press Contact:
Stéphanie de Labriolle
+33 6 85 91 19 94
This email address is being protected from spambots. You need JavaScript enabled to view it.