Special Report into White Label Payment Solutions published by Smart Payment Association (SPA)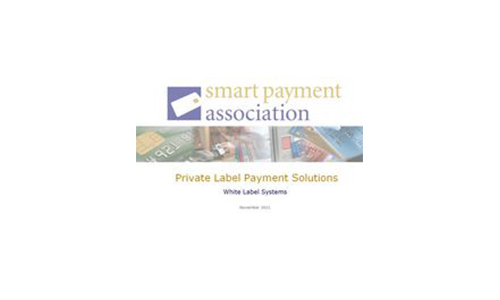 Cartes & Identification, Paris, Wednesday 16th November 2011 - Continuing its commitment to helping the financial industry address the challenges of a rapidly evolving payment ecosystem, the Smart Payment Association (SPA) today publishes 'Private label Payment Solutions: White Label Systems' whitepaper to bring greater clarity to the issues and opportunities of this increasingly popular business model.
With the ongoing migration towards EMV and smart card technology worldwide, a growing number of providers and brands from across the retail payment sector are investigating the opportunities of offering Private Label Payment Solutions to their consumers.
The report looks at the issues, discusses the different approaches and seeks to offer broad guidance for a Private Label development and implementation solution.
According to Andreas Johne, Chairman of the SPA Advanced Payments Workgroup "From differing regional regulatory frameworks, through standardisation to the sheer number of process steps that need to be considered - card or device for the consumer, the issuance process, reader and merchant acceptance, processing and account management – this is a complex business. The paper seeks to cut through the confusion and highlight a clear way forward for organizations wishing to take advantage of the revenue and reputational benefits of private label payment."
To download the full white paper, please click here.
-ends-
Notes to Editors:
About Smart Payment Association (SPA)
The Smart Payment Association addresses the challenges of the evolving payment ecosystem, offering leadership and expert guidance to help its members and their financial institution customers realize the opportunities of smart, secure and personalised payment systems & services both now and for the future.
For more information on the SPA, visit our website: www.smartpaymentassociation.com or contact us by email:
This email address is being protected from spambots. You need JavaScript enabled to view it.
.
Press Contact:
Stéphanie de Labriolle
+33 6 85 91 19 94
This email address is being protected from spambots. You need JavaScript enabled to view it.