Smart Card Alliance Payments Summit 2016, SPA Supporting Organization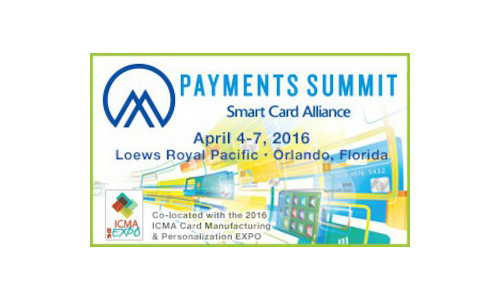 April 4-7, Loews Royal Pacific Resort at Universal Orlando · Orlando, Florida
#PaymentsSummit
The Smart Card Alliance Payments Summit is the premier industry event of the year, where hundreds of industry leaders, technology providers, solutions developers and end users gather to learn and collaborate on all things payments.
For 2016, the Payments Summit has been significantly expanded to keep up with the rapidly growing and changing industry. Through keynote presentations, panel discussions, workshops, an expanded exhibit hall and networking events, attendees will get the latest on all of the exciting technologies reshaping the payments world and the many business opportunities they can unlock:
• Payments Solutions. Learn how to seize the opportunity to create a more secure, convenient and faster payments world with EMV, mobile and other innovative payments solutions.
• Transit Payments. Discover how payments and transit converge to create a more seamless travel experience for all.
• FinTech. Explore financial technology — also known as FinTech — and how it is reinventing financial services as we know it and creating new opportunities for startups and established industry leaders alike.
• Card manufacturing and personalization. Get up-to-the-minute information on industry trends, technology advances, growth opportunities and ways to improve manufacturing and personalization and performance.
Register now for the 2016 Payments Summit for access to all sessions, exhibition hall and networking events for the Payments Summit and the co-located ICMA EXPO.
For exhibit and sponsor marketing opportunities, contact Bryan Ichikawa at
This email address is being protected from spambots. You need JavaScript enabled to view it.
or 703-582-7862.
Get 20% discount using the code SPADISC Please note that this discount is off the non-member rate only and does not include the pre-conference workshop, or any ancillary items.