Electrostatic Discharge (ESD) in Payment Terminals - The SPA Position - February 2012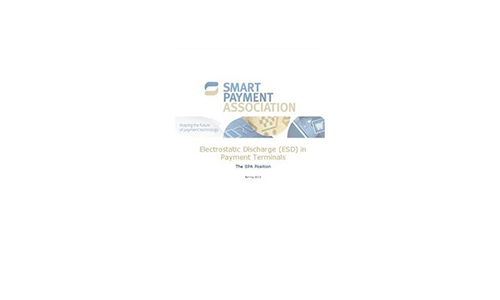 The SPA is committed to working closely with the payment industry to resolve electrostatic discharge (ESD) issues associated with payment cards. SPA members are involved in improvement programs to optimize card reliability by best practice in design and manufacturing, as well as implementation of stringent testing procedures.
However, it is important to recognize the role played by all component manufacturers in the ESD context, and the fact that the SPA membership cannot act in isolation. Our common experience is that failure due to ESD discharge can be eliminated very effectively if terminals are designed in such a way that their conductive surfaces are properly grounded.
For the SPA is it crucial to avoid any duplication of standardization efforts for ESD testing procedures. We would therefore like to draw the attention of the industry to the ISO JTC1 SC17 WG1 published in 2009. This work, we believe, offers the opportunity to assess ESD performance in the field and prevent ESD-related failures.
This report offers a recommendation on how to address the issue of electrostatic discharges (ESD) in payment terminals.
pdf 12-06-13 PP ESD.pdf (213 KB)